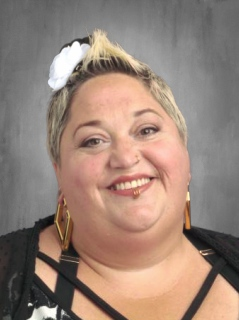 Phone:
Email:
Degrees and Certifications:
Addi Murray, Early Childhood Special Education Teacher

I knew I would be a teacher for most of my life. Several family members work in Education, including my mother who also taught at John Swett until 2016. I am from this community and I am passionate about giving back to it. When I was a Junior at John Swett, my Art Teacher, Maurice McAuliffe, began grooming me to become a teacher. He specifically had me spend most of my time with students with Special Needs. I graduated from John Swett in 2001. I got my Bachelors in Art Education from San Francisco State University. I started as a teacher in 2007, teaching Art at John Swett High School. I got my Art Credential from Cal State East Bay and My Early Childhood Specialist Credential from Bandman University. I believe that every day the sun will rise, and all children should be given a fresh start in every classroom. I believe all humans are equal and you should treat everyone with kindness and empathy. I am looking forward to watching my students and my own children grow. As the Early Childhood Special Education Teacher, I get our youngest students, from 3-5 year olds. At this significant time of development, I can watch my students blossom over the few years I have them. It is the most beautiful part of being a teacher, seeing your work payoff in front of your eyes. The team I work with, along with the devoted families help the youngest students in our community grow. I am passing on the adoration of our community onto my own children, who attend our school district. My daughter is in the graduating Class of 2027 and my son is in the graduating Class of 2033. Please feel free to text me anytime on my personal cell. 510-778-5297. my email is amurray@jsusd.org and my classroom extension in 3505.