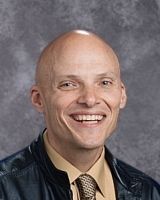 Bon Jovi sings a song titled "Who Says You Can't Go Home". I truly feel "back home", and am grateful and "beyond blessed" to serve as the principal of Carquinez Middle School. Having met my wife Kimi (maiden name Kim Yee) in Mr. Dahme's class (Room 19) in 1982, Carquinez will always have a special place in our hearts (as does John Swett High School, both of us in the "Class of 1988").

Our youngest daughter (Jazzy) is now getting to experience John Swett High School as well. She has enjoyed band and cheer and loves her teachers/coaches. Originally a part of the "Class of 2022", she will graduate early this year with the John Swett Warrior "Class of 2021" with an associate degree from community college as well (over 70 college credits).

Our older daughter, Ariel, attends the University of Phoenix where she is majoring in Health Administration while also taking pre-requisites for the nursing program at Solano Community College. She will receive her Bachelor of Science degree in January of 2021 at the age of 18 ½.

As a family, we love attending church together and visiting Six Flags (when they're open again), going to the beach at Bodega Bay and Santa Cruz, watching Hawaii Five-0 and Titan Games, watching a number of shows on Food Network and DIY, and barbecuing/eating outside. I am also a member of the American Legion, serving as a chaplain (veteran of the United States Marine Corps).

Though it has been a challenging first year plus at Carquinez with the Covid 19 pandemic, construction of a new school campus taking place, and shifting to a full model of distance learning; it is an honor to work with many wonderful staff members, students, families, and community members.

Carquinez Middle School has a distinguished history; yet it has vast potential as well. I'm thankful to be here and hope to serve in a manner that helps us reach that collective potential while also helping students, families, staff, and community members feel individually supported, loved, and ultimately successful.

Looking forward to a great 2020-2021. Go Panthers!!