ASR Group Launches Scholarship Program to Support Students' Career Paths in Manufacturing.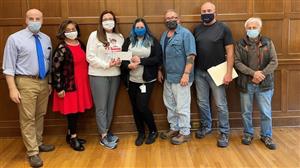 ASR Group is delighted to support local youth at John Swett High School, just up the street from our Crockett Refinery in California, by starting a new scholarship program for students interested in pursuing careers in manufacturing. Our $15,000 donation will help 10 students in the school's Career & Technical Education (CTE) Careers Academy on their path to a certificate or degree from a local community college trade program.
"The scholarship continues our longtime support for John Swett," said Refinery Manager Hitesh Modgil, who serves on the Career Academy's advisory committee. "It's an investment we're proud to make in our community and in the next generation of manufacturing leaders."
Click here for the full article.
---